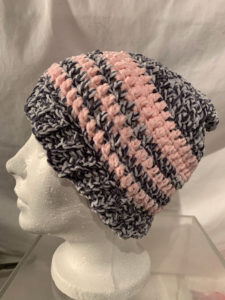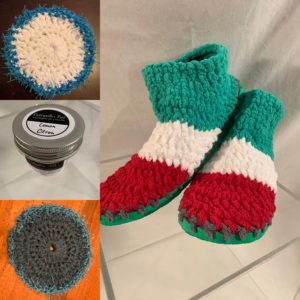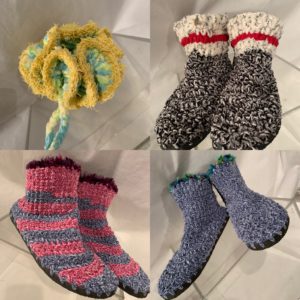 After having seen a pair of have-to-have crochet boots, and not finding them anywhere, I decided to learn how to crochet. I chose cotton as my yarn and got to it. This first pair took me a few weeks to make. I wore them everywhere. Work, groceries and home.
My mother really liked them, so I made her a pair of shorter ones and changed up the design making them more simple. I also changed the yarn as she always has cold feet. Then others in the family saw them and asked for a pair. Mom couldn't keep hers because friends would ask for them.
It gave me an idea. If they were so popular with my family, maybe there is a market for them. So I made 50 odd pair and decided to test the Christmas craft show circuit. But I had to find a name to go along with it. The pair that I had made my Mother were crochet out of chenille yarn. Chenille in french means Caterpillar. And since they are slippers, the name became Caterpillar Feet.
Let's just say that the Christmas craft show circuit went very well. I sold over 100 pair of slippers and was asked to attend additional craft shows. So here we are, new ideas, new colors and some new styles too.
They are warm, comfortable and very soft. Try a pair. You won't regret it.
You can also visit us on Facebook.