A native of Ottawa, Canada, Ken Workman was raised on the vinyl sounds of roots and began singing at age 11 in a Choir and quickly fell in love with music and wanted to learn more. He picked up his first guitar at age 15 and enrolled in lessons. Even after the removal of part of his lung at 17, Ken never lost his desire to sing. Having only one lung has never slowed him down to this day.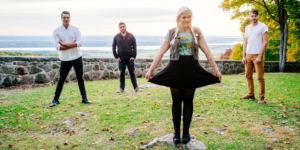 Dani Vezina – Vocals
Eric Hitsman – Guitar, Vocals
Mat Vezina – Bass, Vocals
Mike Poisson – Drums, Vocals
*Justin DeBoer- Additional Guitar
Mosely's 2018 album release, "Echoes", marks the band's 4th release and is the highly anticipated follow up to their 2015 self-titled EP. With less emphasis on public appeal or current musical trends, Mosely's newest release takes the 2013 formed four-piece Alt/Rock group in a more artistic direction. "We made the music we wanted to hear, the music we think needs to be made." When they aren't chowing down on tacos, this tight-knit group of seasoned musicians can be found fine-tuning their Halloween costumes or singing karaoke in their beloved home, the nation's capital of Ottawa ON.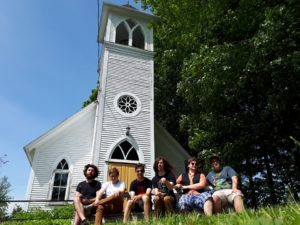 Jared Otter – Lead Vocals
Benjamin Vallée – Lead Guitar, Pedal Steel, Banjo
Liem Morrell – Rhythm Guitar
Julien Levesque – Bass Guitar
Timothy Bryan – Mandolin
Tyler Addey-Jibb – Drums
Caribou Stew are an original alternative country band based out of Montreal. Their sound is a blend of traditional country/bluegrass and alternative rock. Frontmen Jared Otter and Benjamin Vallée have been making music together since the eighth grade, spending their time in high school discovering americana and growing their musical chemistry together.
Caribou Stew live grabs the attention of any crowd with Jared's powerful vocal delivery and their close harmonies. The energy of Caribou Stew on stage is something unique and exciting, bringing the energy of punk rock music to the heartfelt honky-tonk groove of traditional country and western.
Slo' Tom & the Handsome Devils
Slo' Tom – acoustic guitar, lead vocals
Jon 'Killer' Kiely – drums, backing vocals
Rob 'Chops' Snazdell-Taylor – bass
JJ Higgs – electric guitar, lap steel, backing vocals
Slo' Tom is a Canadian songwriter best known as one third of seminal punk/alt-rock band FURNACEFACE.   He has spent the last decade perfecting his rollicking country outfit Slo' Tom & the Handsome Devils.  Tom's second album "Musta been a Pretty Good Night" was released in October 2012 and his third album "I'm Sick" was released October 2013.  The band's their third album "Down in a Government Town" was release in October 2016.  This new record features live favourites such as "One Way Street", "Family in the Mansion on Parliament Hill",  "It's a Condo Now!" and the title track "Down in a Government Town".
Together, Slo' Tom and the Handsome Devils are creating music that combines traditional country arrangements with a dash of Canadiana (think Stompin' Tom and Gordon Lightfoot) and a endearing sense of humour.
Steve Stacey & The Stump Splitters
Steve Stacey – singer, guitar
Pat Robillard – guitar
John Dillabough – Mandolin
Dave MacDonald – bass guitar
Jason Woodley – drums
Steve Stacey and the Stump Splitters are a throwback to the days of storytelling in song, contemplating life with humour, unique observations and truth that is too obscure to be a lie. Armed with songs about cars, lost love, drinking, the occasional murder ballad, no topic is off limits.
Steve will keep you on your toes trying to figure out what will he say next. Working on a new album of original songs, Steve has 2 cd's of original material "Sounded Good at the Time" and "Tall Tales Fibs and Outright lies" which was described in Exclaim magazine -Steve Stacey and company have carjacked Buck Owens, rear-ended John Prine and made off with (at least) a vat of homemade whiskey to create this set of infectious masterpieces.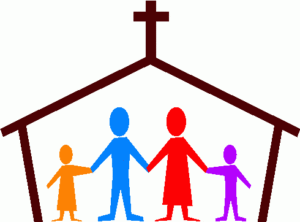 Sunday, June 3, 2018
10:00 AM to Noon: Church Service
Bitter North
Hannah Fraser – Lead Vocals
Matt Cress – Guitar
Matt Cook – Keys
Ben Spero – Bass
Colin Campbell – Drums
Kaleidoscopic, post-rock, genre-bending eclectica, Ottawa's Bitter North doesn't know what genre's banner to fly under, but they are happy as undefinable music explorers, dirt on their knees, thumbs out, with a style uniquely their own. Boot-stomping, drum-driven sing-alongs, give way to eerie harmonies, subtle synthesizers, tantalizing guitar riffs, which support soaring lead vocals. The songs weave in and out, endings and beginnings blur, subtle to heavy and back.
Fresh off of their second EP of 2017, "Vacation Days", Bitter North feel solidly themselves, and are looking to branch ever further afield from their Ottawa base and share their specially branded music style with the rest of Canada and beyond!
Hey Buster 
Sherwood Lumsden – guitar, vocals
Tom Stewart – bass, vocals
Stephen Skoutajan – drums, percussion
Hey Buster is a group of father/musicians that started writing songs to entertain their own children in 2010.  Three CDs later, they are an integral part of the Ottawa community performing for families in bars, schools and at community events. Their show is energetic and interactive featuring dance moves for the kids, jokes for the adults, dramatic props, great guitar licks and just a itty bitty little tiny bit of education (a couple of the guys are teachers).
Sons of Gord 
Conor Veinotte –  Vocals, fiddle, acoustic guitar
Liam Veinotte – Vocals, mandolin, bass guitar
Gavin Veinotte – Vocals, keyboard, accordion
Ben Kissner – electric guitar
Jona Thomas – Drums
High school hasn't been all that bad for Sons of Gord, a band of brothers from Chesterville, ON, who are playing their way through their teens. The combination of traditional and rock music they are growing up with can be heard in their wide variety of covers, while influences of folk rock bands such as the Avett Brothers, Lumineers and the Jayhawks are the drive behind their energetic originals. Between the three of them they play fiddle, guitar, mandolin, bass, accordion and keys, and have been known to pick up just about any other instrument they might find while touring the region in their dad's Jetta wagon.
Krystal Jyl and The Jacks 
Krystal Jyl Thomas – vocals
Stephen K. Donnelly –  guitar
Rob Lethbridge – upright bass
Andre Ferraton – drums
Jim McDowell – piano
Krystal Jyl and The Jacks are a fresh new Ottawa rockabilly blues and swing combo. They will be performing at the 2018 RBC Bluesfest on July 15.
Thomas has fronted or collaborated with acts in Ottawa and Barrie such as The Lonesome Devils, The Rusty Frets, Parting Visions, Ray Harris and the BSOB's and Big Train. Donnelly is the main songwriter and upright bass player in The Kingmakers (SUN Studio, Cowboy Jack Clement's studio, Hi-Style Studio Chicago) and plays with Drive-In Radio, Ray Harris, Uncle Sean, Lefty McRighty, Jimmy George and has played with many more while also running his studio Tenvolt Audio.
Ray Harris & The BSOB's 
Ray Harris – Vocals, guitar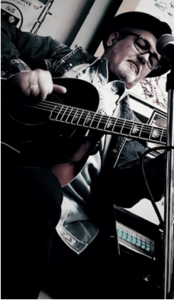 Steve Donnelly – guitar
Brent Weatherall – upright bass
Andre Ferraton – drums
Jim McDowell – keyboards
A veteran of the Ottawa music scene, Ray Harris is a prolific and likeable singer/songwriter/storyteller who describes his music as "Ameri-Canadiana" – his songs have been described as finely crafted, drawing favourable comparison to master songsmiths. He wears his influences on his sleeve – incorporating strong elements of honkytonk country, rockabilly, folk and roots rock into a distinctly identifiable sound. Ray's 3rd release, Kinda Sets The Tone (2016) is a collection of mighty fine tunes.
"East End, West End, North End, South End" (2009), gave us rootsy music worthy of our time. "The deep emotion of the lyrics is matched by a lived-in, dense instrumentation of guitar, pedal steel, banjo and organ" Fateema Sayani, Ottawa Citizen "Poorly Kept Secrets" (2012), was called "the best of Canada's 'new wave' (of country music)" by Country Music People magazine, UK. "Ray Harris, veteran of the Ottawa music scene, should be a secret no more" Kickin' Cuts, Country Music People Magazine (UK).