2017
Slo' Tom (solo)

https://slotomandthehandsomedevils.bandcamp.com/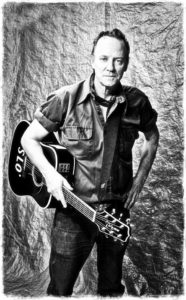 Slo' Tom – guitar/vocals
Hey, my name is Slo' Tom. I write crazy rollicking country songs – basically mini "how to" guides to getting drunk and gettting lucky! If that sounds up your alley (ya weirdo) then read on… We're a four piece country band – acoustic guitar, chicken pickin' electric, bass and drums. Lots of harmonies and funny lyrics. Slo' Tom and the Handsome Devils formed around 2009 and our album "Musta  Been a Pretty Good Night!" was released in October 2012. Our 2013 album "I'm Sick" received rave reviews and we had a song chosen by the Ottawa Citizen as one of the Top
Ten releases of 2013. Good times!
Arms of The Girl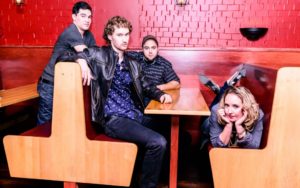 Carolyn (Cee) Côté – vocals / rhythm guitar
David Cutler – lead guitar
Phil DesRoches – drums
Afton Penny – bass
Arms of the Girl is a female-fronted Ottawa band that plays bluesy, twangy rock. Known for their high-energy live show, Arms has been compared to Alanis Morissette, Sheryl Crow, and Serena Ryder. With introspective, playful lyrics, powerful guitar riffs and solos, and a fun, engaging band chemistry, Arms delivers solid, memorable performances. Notable shows include Mountain Man Music Festival and Ottawa Bluesfest.
Ray Harris & the BSOB's
http://www.rayharrismusic.com/
Ray Harris – vocals, acoustic guitar, electric guitar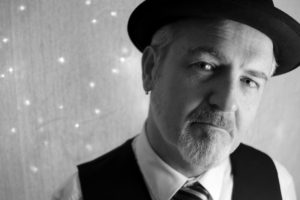 Stephen Donnelly – bass
RW Haller – dobro/mandolin
Andre Ferraton – drums
KJ Thomas – vocals
A prolific and likeable storyteller who regales audiences with all sorts of music trivia tales, Ray Harris's 3rd release, Kinda Sets The Tone, is a collection of mighty fine tunes from this master of Americana music. The title track and first single off the album, "Kinda Sets The Tone", swings its way right across your heartbreak. His wry humour glints in "Rain On Your Thunder (The Spanish Imposition)", a passion for cars shines clearly in "Big Old American Cars" and "Margaret's Waltz" is an out and out love song. In thirteen full band tracks, this album covers the gamut from blues to country to folk. Ray's first release, "East End, West End, North End, South End" (2009), gave us rootsy music worthy of our time. "The deep emotion of the lyrics is matched by a lived-in, dense instrumentation of guitar, pedal steel, banjo and organ" Fateema Sayani, Ottawa Citizen "Poorly Kept Secrets" (2012), was called "the best of Canada's 'new wave' (of country music)" by Country Music People magazine, UK
Hot Snake Handlers
https://www.facebook.com/hotsnakehandlers/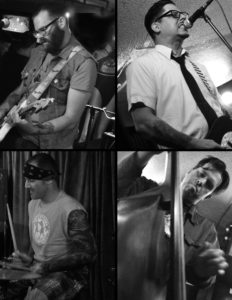 Greg Harris (Lefty McRighty) – vocals, guitar
Timmy Jay Meathook – bass
Tom Birkhan – drums
Hot Snake Handlers is a weapons-grade shitstorm of blistering psychobilly, rockabilly and mean-asscowpunk, sharp and jagged as a prison shank in the eye, mean and loud enough to give your nightmares nightmares.
GOOD2GO
https://www.facebook.com/good2go.canada/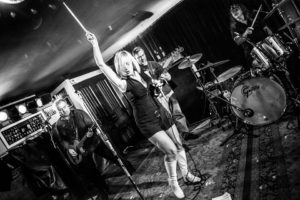 Maureen Hogan – vocals
Glen Russell – guitar
Reg Allen – bass
Gilles Mantha – drums
The band is called GOOD2GO and comprises a handful of dudes and their impossible-to-miss front woman Maureen Hogan. She's got chops and a ballsy attitude about the men who've done her wrong. Her stage persona is large, but don't confuse her hammy side for a lack of talent. The gal — a teacher with the Ottawa school board by day — can sing. She really hit a high note with the release of their fifth album, C'Mon. It shows a band moving from early punk influences into a blues-rock sound that amplifies Hogan's breathy, heartachin' voice, bringing to mind Patsy Cline and Dusty Springfield. (Ottawa Magazine, Dayanti Karunaratne)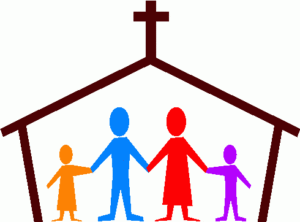 10:30 AM to Noon: CHURCH Service
Maple Hill
http://www.maplehillbluegrass.com/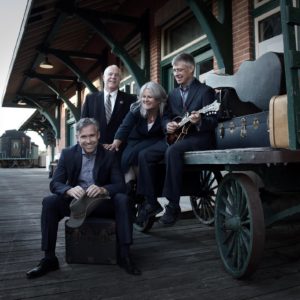 Garry Greenland – vocals and guitar
Pat Moore – vocals and bass
Kevin Golka – vocals and mandolin
Sean Lundy – banjo
Maple Hill is an award winning bluegrass band that brings energy, emotion, and the lost art of entertainment to their show. Built on the foundation that "it's all about the song", the band delivers powerful vocals with strong supportive instrumentals rooted in a traditional sound – from the early hard-edged blues through gospel and on to today's great songwriters, including original compositions. Heart, drive, deep blues, inspiration, a tight vocal blend, fun filled interplay, and an intimate relationship with the audience are some of the things that describe a Maple Hill performance.
Sons of Gord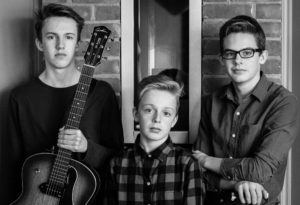 Conor Veinotte
Liam Veinotte
Gavin Veinotte
High school hasn't been all that bad for Sons of Gord, a band of brothers from Chesterville, ON, who are playing their way through their teens. The combination of traditional and rock music they are growing up with can be heard in their wide variety of covers, while influences of folk rock bands such as the Avett Brothers, Lumineers and the Jayhawks are the drive behind their energetic originals. Between the three of them they play fiddle, guitar, mandolin, bass, accordion and keys, and have been known to pick up just about any other instrument they might find while touring the region in their dad's Jetta wagon.
Trailer4Rent
http://www.trailer4rent.ca/home-1.html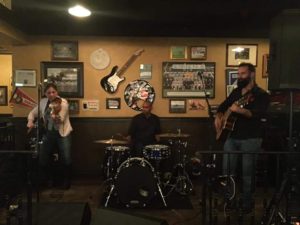 Tyree Lush – vocals and guitar
Martin Agard – drums
Dana Arrowsmith – vocals and fiddle
Tyree Lush and Dana Arrowsmith have been playing together for over 15 years in the Ottawa area and at folk music festivals across the country. Joined by veteran percussionist Martin Agard, Trailer for Rent is a dynamic trio that plays everything from Celtic to Contemporary. The band's polished harmonies, driving rhythms, and obvious enjoyment of playing together have made the group a local favourite. They love to jam, and lend their unique sound to everything, from Blue Rodeo to Mumford and Sons, Steve Earl, Lumineers, and much more.
Jumpin' Joel Flash & The Magic Machine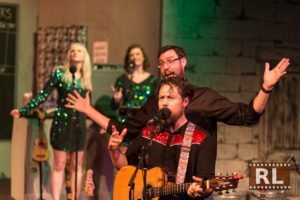 Joel Elliott – Acoustic Guitar and Lead Vocals
Zoe Elizabeth & Robin Hodge – "The Ghost Lights" – Backing Vocals and Theatrics
Brad Cutler – Guitar
Kim Valentine – Ukulele
Hot off the heels of the hit musical theatre production Phantom of the Opry, musical director/composer Jumpin' Joel Flash is back and rarin' to boogie with his band, The Magic Machine! You'll hear surprisingly hummable, temptingly strummable original tunes designed and performed in a manner that it is certain to make you smile. Add in beautiful backups and theatrical nonsense from an ever-increasing group of musical misfits and you've got a show that you won't soon forget.
If you've read this far, the Music Program is Produced by "tic", morning radio host/producer at CKCU-FM, and creator/producer of Barnstorm.