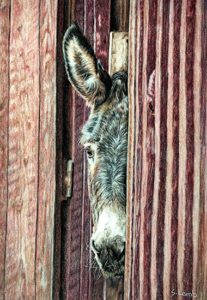 Sherry Lamb-Heinzle is a Canadian born artist who has been living and working on her rural Eastern Ontario farm with her husband and children for almost 20 years. The Ottawa Valley landscape, kids, travel, and her love of animals supply a constant source of inspiration.
Growing up she loved watching her grandfather paint and she credits him for encouraging her to be creative and to pursue art as more then just a hobby. Hesitant to become a full time artist, she first went to school for graphic design and worked several years in that field before deciding to take time off to raise her family. Being a full time, at home mom of 3 was fulfilling, but she struggled to find time and energy for painting. Needing a creative outlet, she dug up her old box of Prismacolour brand coloured pencils that were purchased in her college days and started to draw. It was a perfect fit!  A portable, cost effective, easy to "pick up and put down" once the kids had finished napping solution! She hasn't looked back since.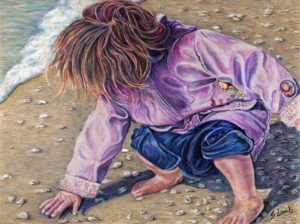 Primarily self taught, Sherry draws in a realistic, photographic style. Although not her intent to perfectly replicate the photo, she tends to love the details! Her subject choices draws on her life experiences. She wants to recreate the sights, sounds, and even smells of that one perfect moment in time. She wants the viewer to feel what she was feeling at the time. The best compliment is when people can relate to her paintings by saying, "I remember my kids doing that!" or "I remember when…".
Sherry is currently working on adding to her body of work (take a look at her website) and has several shows and exhibitions planned.