Saturday June 2, 2018                           
8:00 AM – 10 AM Breakfast (The Gathering House)
10:00 AM – Opening Ceremonies (Gazebo)
10:00 AM – 4:00 PM Artists, Artisans, and the Chesterville Farmer's Market, Chesterville and District Agricultural Society (Waterfront)
10:00 AM – 4:00 PM – Quilters Show (Upper Canada Quilt Guild), Juried Art Contest 14 – 17 year olds (The Gathering House)
10:00 AM – 4:00 PM – Seaway Slot-Car Racing (Scotia Bank parking lot)
10:30 AM – Ashley Thomas Dance School (Gazebo)
11:00 AM to 6:00 PM – Bar; food provided by the Chesterville Fire Department (main stage area)
12:00 PM – 6:00 PM – Music and Bar Area (south side near Library). Full Music lineup here.
1:00 PM  – Line Dancers (Gazebo)
FREE: North Dundas Township will be showing a movie under the stars featuring "Jumanji" starting at dusk (main  stage). Concessions available.
Kid's Zone (behind Louis Restaurant)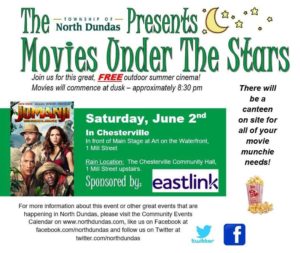 10:00 AM – 3:00 PM – Chalk art contest; face painting ($2.00); play areas (play dough, create your own bubble wand, crafts)
10:30 AM –  Monkey Rock Music is a fun, entertaining and creative participatory music program for young children and their adult care givers
10:30 AM – 4:00 PM Bouncy Castle
2:00 PM – Illusionist Kevin Smith can be sure to keep your children thoroughly entertained with his audience participating children's magic show.
4:00 PM Colouring Contest submissions due
7:30 PM FREE: "Jumanji" movie on the main stage. Concessions available.
———————————————————————————————————————————————————————–
Sunday, June 3, 2018
 Kid Zone (behind Louis Restaurant)
10:00 AM – 3:00 PM – Play areas (play dough, create your own bubble wand, crafts)
10:30 AM – 4 PM – Bouncy Castle

11:30 AM – Open Mic
12:00 – 3:00 – PM Face Painting ($2.00)
1:15 – 2 PM  MAIN STAGE: Hey Buster is a group of father/musicians that started writing songs to entertain their own children in 2010.  Their show is energetic and interactive featuring dance moves for the kids, jokes for the adults, dramatic props, great guitar licks and just a itty bitty little tiny bit of education (a couple of the guys are teachers).
2 PM – Scavenger Hunt
Various games to be ongoing for the Children throughout the day. Popcorn and Cotton Candy will also be available for purchase. Play areas with play dough, create your own bubble wand, crafts…